May04
South Tipperary defeated Carlow by 3-11 to 0-12 in the first round of the Celtic Challenge Under 17 Hurling competition on Wednesday May 4th at Fenagh, County Carlow.
---
Celtic Challenge 4th May 2016 (Group A)
South Tipperary 3-11 Carlow 0-12
Report by Fergus McGrath
Tipperary's representative in the inaugural Celtic Challenge Under 17 hurling competition comprises of players from the west and south divisions who collectively are called South Tipperary. Fenagh in Co. Carlow was the venue for South Tipperary's first competitive game in this competition where they were pitted against Carlow's county team.
Carlow opened the scoring with a point from Mikey Kavanagh which was responded to by South Tipperary with points from Fergus Halligan, Andy Byrnes (2, 1 free), Conal Donovan and a goal in the 10th minute by Cathal Bourke. Two Carlow frees from John Nolan and a second Carlow point from Kavanagh narrowed the gap and despite playing against a strong breeze Carlow began to assert themselves against a South Tipperary team that was wasteful on occasion and who, apart from a point from Ross Bonner, found themselves overly reliant on scores from frees from midfielder Andy Byrnes. The half time score was 1-7 to 0-5 in South Tipperary's favour.
The second half opened with a pointed free for Carlow by Dan Sheehan which was excellently replied to by South Tipperary's Cathal Bourke. Carlow then scored five unanswered points to level the game and with momentum building in their favour and the assistance of a strong wind Carlow seemed to be gaining the upper hand. South Tipperary dug deep however and showed a lot of resilience. Halligan and Byrnes (free) led the charge with points to put South Tipperary two ahead before substitute Niall Hoctor with his first involvement in play made a piercing run through the Carlow defence to score a crucial and well taken goal. Nolan had a point for Carlow before Donovan and Bourke scored a goal and a point respectively to conclude a strong final quarter from the South Tipperary team and to seal a victory on a score line of 3-11 to 0-12.
South Tipperary's win was built upon on a steady defence where Donnacha Quirke was commanding and dependable at full back with support from his corner backs and where the half back line of Paul O Heney, Fiachra Scott and Niall Heffernan was solid throughout. Wing back Paul O Heney's tussle with Carlow's John Nolan was one of the highlights of the game. Midfield put in a very workmanlike performance whereas the attack, while occasionally giving glimpses of their potential, did so in earnest in the last 15 minutes in particular.
South Tipperary's next game is at home against Waterford City on Wednesday 18th May at a venue to be confirmed.
South Tipperary
1. Luke Delahunty – Moyle Rovers
2. Stephen O'Brien – Eire Og Annacarty
3. Donnacha Quirke – Clonoulty Rossmore
4. Cormac Maher – Arravale Rovers
5. Paul O'Heney – Emly
6. Fiachra Scott – Ballingarry
7. Niall Heffernan – Golden Kilfeacle
8. Andy Byrnes – Golden Kilfeacle (0-5, 0-4 frees)
9. Darren O'Dwyer – Arravale Rovers
10. Eoghan Brett – Mullinahone
11. Conal Donovan – Arravale Rovers (1-1)
12. Josh Macken – Skeheenarinky
13. Fergus Halligan – Arravale Rovers (0-2)
14. Cathal Bourke – Clonoulty Rossmore (1-2)
15. Ross Bonner – Cashel King Cormacs (0-1)
Interchanges (Substitutes used)
23. Eoin McCormack – Knockavilla Kickhams
16. Killian Hayde – Golden Kilfeacle
21. Colin Ryan – Cashel King Cormacs
20. Niall Hoctor – St. Mary's, Clonmel (1-0)
28. Jordan Hayes – Eire Og Annacarty
Panelists
Michael Meaney – Ballyneale
Ciaran Quinn – Cashel King Cormacs
Kevin Lawlor – Killenaule
Conor Leahy – Arravale Rovers
Matthew Moroney – Arravale Rovers
Dean McMorrow – Clerihan
Jack Lyons – Ballyneale
Jack Lowry – Arravale Rovers
Conor O'Brien – Cahir
Nathan Crowe – Arravale Rovers
Carlow
1. Kevin Curran
2. Tommy Dunne
3. Jack Ryan
4. Eanna Holland
5. Donal Jordan
6. Tony Lawlor
7. Darragh O Toole
8. David Nolan
9. Dan Sheehan
10. Barry Hickey
11. Mikey Bambrick
12. John Nolan
13. Mikey Kavanagh
14. Eoin Fenton
15. Jamie Kavanagh
17. Billy Molloy
18. Michael Slattery
19. Ber Scully
20. Jim Nolan
21. Diarmuid Murphy
22. Ciaran Whelan
23. Cathal Murray
---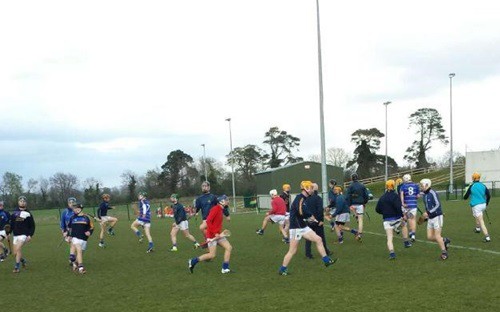 ---
South Tipperary panel to play Carlow
Luke Delahunty – Moyle Rovers
Stephen O'Brien – Eire Og Annacarty
Donnacha Quirke – Clonoulty Rossmore
Cormac Maher – Arravale Rovers
Paul O'Heney – Emly
Fiachra Scott – Ballingarry
Niall Heffernan – Golden Kilfeacle
Andy Byrnes – Golden Kilfeacle
Darren O'Dwyer – Arravale Rovers
Eoghan Brett – Mullinahone
Conal Donovan – Arravale Rovers
Josh Macken – Skeheenarinky
Fergus Halligan – Arravale Rovers
Cathal Bourke – Clonoulty Rossmore
Ross Bonner – Cashel King Cormacs
Killian Hayde – Golden Kilfeacle
Michael Meaney – Ballyneale
Ciaran Quinn – Cashel King Cormacs
Kevin Lawlor – Kilenaule
Niall Hoctor – St Mary's, Clonmel
Colin Ryan – Cashel King Cormacs
Conor Leahy – Arravale Rovers
Eoin McCormack – Knockavilla Kickhams
Matthew Moroney – Arravale Rovers
Dean McMorrow – Clerihan
Jack Lyons – Ballyneale
Jack Lowry – Arravale Rovers
Jordan Hayes – Eire Og Annacarty
Conor O'Brien – Cahir
Nathan Crowe – Arravale Rovers
The South Tipperary mentors are as follows-
Declan Hickey (Skeheenarinky)
Kevin Shelly (Ballingarry)
Eddie Moroney (Arravale Rovers)
Fergus McGrath (St. Mary's, Clonmel)